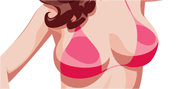 BREAST LIFT
(Mastopexy)
Get this procedure done

for the low price of

$4,449
Whether you have had children, gravity took its course, or you have lost a lot of weight, you may feel self-conscious over your falling forward and sagging breasts. We know how important it is for women to look and feel their best, but this may be difficult if you feel self-conscious over your breasts.
If you experience falling, sagging breasts, consider getting a breast lift (mastopexy), which will make your breasts firmer, uplifted, and reshaped to their youthful perkiness. During the procedure, the breasts are lifted by removing excess skin and fat, and the fallen areolas and nipples are raised and re-sized.
You may be an ideal candidate for the breast lift procedure if you have experienced pregnancy. One side effect from pregnancy that many women are familiar with is sagging downward-pointing breasts. Your body experiences hormone fluctuations throughout and after pregnancy. These fluctuations may take a toll on your breasts. The influx of hormones may cause some extensive swelling and then shrinking to occur, causing breasts to reduce and lose their youthful perkiness. Plus, the excess swelling can cause breasts to stretch and sag, often permanently reshaping them downward. Then, as you age, gravity pulls your breasts even more downward, and no amount of exercise alone can re-tighten the skin and fat tissue in breasts.
Some women may find their breasts sag after losing a significant amount of weight after undergoing bariatric weight loss surgery such as the Gastric Sleeve, Lap-Band, Gastric Plication, or Gastric Bypass. If you are experiencing looser, sagging breasts due to massive weight loss, you too are a great candidate for breast lift surgery. You may reverse the effects of rapid weight loss and gain firmer, uplifted, and shapely breasts.
Keep in mind a breast lift procedure will not change the volume of your breasts, so consider combining this procedure with breast augmentation or reduction surgery to better suit your desired breast size. Additionally, this procedure will be performed so that breastfeeding is still possible and little to no loss of sensation to breasts and nipples occur.
The first step to getting back your beautifully shaped breast profile is to contact us today-don't hesitate!
We have a special offer!
Our Price
$4449