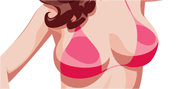 BREAST LIFT WITH REDUCTION
Get this procedure done

for the low price of

$4,449
For women, breasts are more than just their source of nurturing and life, but may also dictate how they feel about their selves and their bodies. If breasts are over-sized and heavy due to genetics, weight gain, or pregnancy, they can also be a source of lifelong self-consciousness.
Having overly large breasts and excess breast tissue may cause back-pain that may impair your active life, cause emotional and physical discomfort, and even limit breathing. Additionally, enlarged breasts may also cause pain to your shoulders due to digging bra straps, pain to your abdominal muscles, and self-esteem issues.
If you experience excessively large breasts, you may be an ideal candidate for breast reduction (mammoplasty) surgery. We will correct your over-sized, heavy, and enlarged breasts by removing excess breast fat, breast tissue, and skin around the breasts, creating a comfortable, proportionate breast size. The lowered and stretched areolas and nipples will be shifted back up to a higher position, and, depending on the size of your breasts, you will have peace of mind that nipple sensation and the ability to breastfeed may be retained.
Although having a baby is a rewarding experience, pregnancy and breastfeeding can cause significant and unpredictable damage to your breasts. Through hormone fluctuations, your breasts may have grown up to two cup sizes-and stayed that way, making you feel self-conscious. However, the breast reduction procedure will correct your swollen and overly large breasts, and re-proportion them to your body.
You don't have to be a prisoner to your overly large breasts. You can relieve your discomfort, improve your breathing, and gain freedom. Contact us today to learn more and get the help you need!
We have a special offer!
Our Price
$4449